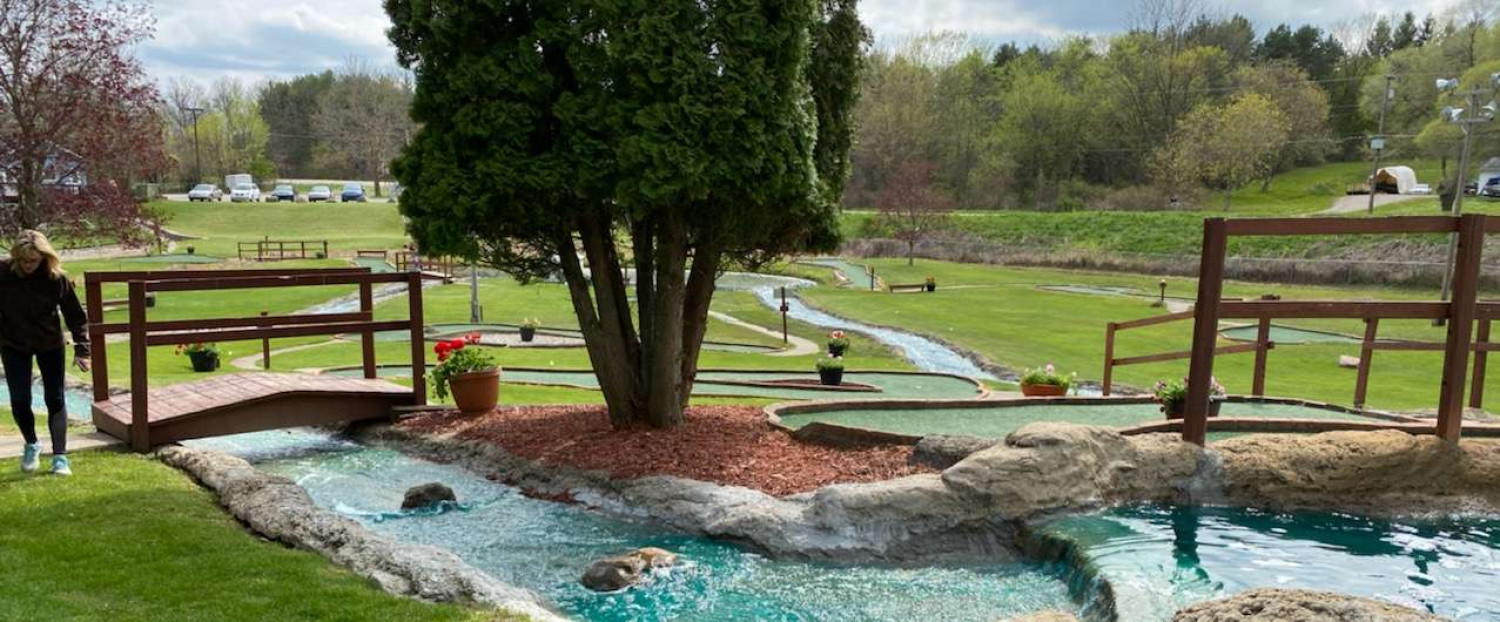 I really like this Facility because I can prepare my self for the upcoming golf season no matter the elements outside. So with the nice balls that I purchased I can practice with a purpose hitting out to some great targets from underneath a heated area! There is 8 spots plus two more spots inside, and a 1000sf putting area, plus a state of the art golf simulator which gives you great feed back of your ball striking between shots on some great courses that we have only seen on TV!
Very nice customer service. We had a great time with put put an the go carts. And friendly staff. Will be going back
Took the grandkids here..was very nice..staff was friendly and the area was well kept and clean. Oh yeah and very affordable too.
I have been coming to golfland for years and love the place. It's been great for improving my golf game. The owner Steve is a great guy and cares about his customers. It's great to have a driving range that's usable in the winter. I highly recommend checking it out!
Inexpensive good family fun, staff was friendly, especially the kid running the go karts who was really sweet and patient with my 10 year old with minimal experience driving a go kart
Beautiful place. Go carts. Mini golf. Regular golf. Icecream! Very friendly staff.
Wonderfully fun and difficult putt putt course. Long holes and obstacles inserted in frustrating locations make for lots of strokes, be prepared to laugh. Go kart track is reasonably priced and super fun. Track itself is a little small but tight turns and a beautiful scenery make up for it. Great location for a birthday party or just a fun Tuesday night
Great place! Reasonable Prices! The go-carts are fun(The 'DODGE' car was the fastest) and if you like mini-golf they have a massive course with some cool water features. Check it out and grab some ice cream while you're there!
Had a riot with the family playing putt putt and riding the go carts. Great atmosphere. Pretty well kept and benches and trash cans at every hole. Loved it there. Will definitely go again. Great prices as well.
I came here with my church youth group, we did the go carts here and the mini golf. All the go carts worked well and the track was fun. The staff was always quick to help anyone who spun out, this happened a lot. When we went back to main area to get stuff for mini golf, we were having fun loud as boys do and the staff were pretty visibly annoyed. One man asked us if we would go outside and then watched us like while we played outside making sure we didn't do anything wrong and yelling at us if we did. The staff is what makes or breaks a place for me. But both the go carts and the mini golf were very good quality, and looking back on it I would go again.
We always have so much fun at Golfland! The putt putt course is challenging and FUN! The Go-Karts are drifty fun! Everyone is kind and having fun themselves that work there. Will continue to visit.
Your feedback is important to us! Leave us a review below.
We look forward to hearing from you!